遇见,湖州的你(中英文版)
发布日期: 2020-08-19
来源:湖州发布、市友协办
遇见湖州的笔
  一杆湖笔,半部书画史
  Huzhou's ink brushes have helped to write half of China's painting and calligraphy history.
  湖笔之下成就书画艺术,造就湖州名扬四方
  Huzhou's ink brushes have contributed a lot to the achievements of painting and calligraphy art and made Huzhou well-known worldwide.
  笔墨风行,弘歌悠扬
  The ink and brushes are widely popular and enjoy a perfect fame.

  遇见湖州的瓷
  穿越千年历史回廊,在湖州遇见最古老的原始青瓷
  Passing through the winding corridor of thousands of years' history, meet the oldest primitive green porcelain in Huzhou.
  知来路,明去路
  湖州瓷
  沉淀千年时光,让我们看见曾经的自己
  Lightening the past and future, Huzhou porcelain embodies thousands of years of culture and makes us perceive who we used to be.

  遇见湖州的丝
  一片4000多年前的绸片
  留下了历史和文明的印记
  A piece of silk product tracing back to 4000 years ago leaves us a mark of history and civilization.
  美丽的湖丝
  一头连着中国
  一头连着世界
  The beautiful Huzhou silk thread connects China on one end and the the rest parts of the world on the other.
  丝丝缕缕续写湖州故事
  Every fiber is telling the story of Huzhou.

  遇见湖州的酒
  一座城,也是一杯酒,把历史的记忆熔铸
  A city is just like a glass of wine, casting the the memory of its history.
  和这座城市一样,一度"隐于市"的湖州酒正加速全面复兴
  Also like the city, huzhou wine, once "hidden in the local alleys", is enjoying a full revival.
  厚积薄发的湖州酒文化将成为城市的又一品牌
  With its accumulated strength, huzhou's wine culture is about to rise and become another brand of the city.
  这里有酒有故事
  山水之间等你来
  With wines and stories, Huzhou is welcoming you with lucid waters and lush mountains.

  遇见湖州的茶
  湖州的茶
  起于汉,盛于唐宋
  迄今有一千七百多年的历史
  Huzhou's tea, originated in the Han Dynasty and flourished in the Tang and Song Dynasties, enjoys a history of more than 1,700 years.
  一部《茶经》,享誉世界
  The Tea Classic is well known all around the world
  如今,这里的"扶贫白茶"更是穿越山川
  令村民笑逐颜开
  赋予今天湖州茶斑斓的色泽
  更传递着绿色的希望和故事
  Nowadays, the White Tea for poverty relief are covering hills and mountains, which has brought the smile to the the farmers, added splendid colors to Huzhou's tea culture, and passed on the green hope and stories.

  于千万人之中遇见你所要遇见的人
  Meet whom you want to meet among thousands of people
  于千万年之中
  时间的无涯的荒野里
  没有早一步
  也没有晚一步
  刚巧赶上了
  遇见湖州的你
  Through thousands of years, with the boundlessness of time, meet you in Huzhou, no one step early, no one step late.
  在
  包容,多元,融合
  活力,自由,精彩
  的这座城市
  遇见
  为热爱怀抱梦想
  历经打磨
  逐渐成熟丰盈的你
  In this inclusive, Perse, and integrative city, we meet you who hold dreams and are gradually becoming mature due to the polish of lives.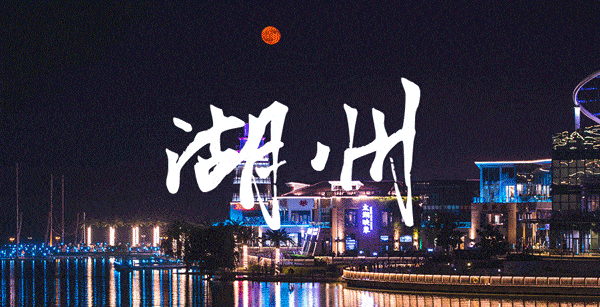 无论是成功登顶珠峰的你
  还是靠着修车手艺
  过着简单日子
  在静寂无声的世界
  自强不息的你
  这是坚守信念
  与人方便的你
  Whatever you are standing at the top of the Everest, or living a simple live by repairing cars, you never give up trying in the peaceful world or being ready to help others.
  一杯一元茶
  泡出诚信、淳朴的人间烟火味
  From a cup of tea worth only one yuan, we taste the simplicity of life and the value of integrity.

  这是为人父母的你
  教给孩子
  专注和刻苦的品格
  值得传承一生的财富
  Focus and hard-work are the treasures your children can inherit from you and worth passing on for a lifetime.

  这是从他乡而来
  扎根"中国童装名镇"
  在网络直播平台
  找到了自己新天地的你
  You left home, settled down in the Town of Children's Wear, and create a new world by yourself through live streaming.

  善良豁达、勇敢刚毅
  阳光奋进、拼搏创新
  这是千千万万的你
  给这座城市的标签
  Kind-hearted, open-minded, brave, resolute, active, optimistic, diligent and creative,
  these are labels of the city demonstrated by thousands of you.

  湖州因你而美
  Huzhou is beautiful because of you.
  你为湖州代言
  It is you who endorse for Huzhou.
  美好繁盛的夏季
  涌动的湖州
  是一次焕新,一次更迭
  In this prosperous summer, vigorous Huzhou is facing a new earth-shaking upgrading.
  以前瞻的目光
  笃定城市的现在与未来
  With a forward-looking vision, we have full confidence in the future of this city.